Last Updated on February 1, 2021 by Cassandra Nostredame
Last Temptation by Sloane Virago is more than just a romance. This compelling novel had me holding my breath as I waited to find out what happened. I love a novel that leaves a lasting impression, and Virago's debut work made me think.
Review: Last Temptation by Sloane Virago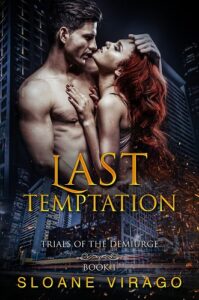 This book is the first book in Virago's new Trials of the Demiurge series. From the moment you open the book, you are immediately pulled into an all-encompassing, vivid story. Initially, you follow the story of Jacob, Esperanza and Peter. Jacob is struggling to find his way in life and finish school. Unfortunately, bad-boy Daemon steps in to "help" him along.
As the story progresses, Esperanza begins to fall for her childhood friend, Peter. While the three friends have known each other since childhood, Esperanza had always thought of Peter as an older sibling. Suddenly, she is forced to see Peter with new eyes.
Their burgeoning romance was not meant to last though. A love triangle appears as Daemon tries to edge out Peter for Esperanza's love. He appears at a pivotal moment for Esperanza, which may be one of the reasons why she was so vulnerable to his sexy, captivating demeanor.
My Take on Last Temptation
I couldn't get enough of Daemon. Initially, I was rooting for Peter, but Daemon was so mysterious and enthralling. I found myself drawn to him, even though a part of me still yearned for Peter to end up with Esperanza. I wasn't expecting where this novel ended up going at all. The end truly surprised me, so I don't want to ruin it for you.
After I finished the book, I found myself wondering about Virago's overarching message about what it takes to be a good person or to follow through on your values. If I were to guess, I would say she is trying to say that there is no set definition of goodness, and we are each left to determine what being good means to us.
Who Should Read It?
Before I wrote my review, I went around to see what other reviewers were saying as well. It seems like I'm in good company—Sloane Virago is getting rave reviews for her debut work, and I can certainly understand why! Her novel appeals to romance fans on so many different levels. It's sexy, compelling and engaging all at once. While her writing has a certain breezy, relaxed nature to it, she doesn't dumb things down. Instead, her clear prose allows you to easily follow the storyline so that you aren't distracted. Personally, I find her style to be quite a relief. I want to get the story when I read, and I hate when others throw in academic words just to sound prestigious. With Virago's work, you can delve into the story without any distractions at all.
Because of this, Last Temptation by Sloane Virago is a great reading choice if you want something to read on your day off or your trip to the beach. The writing is enjoyable on its own, but then the overall message of the book is incredibly profound. I wasn't expecting so much depth out of a romance, but I was pleasantly surprised by it.
Mysterious, captivating Daemon is the perfect addition to a love triangle, and I love the friends-to-lovers aspect of the book. Virago had just the right number of twists and turns to keep the story interesting. If you like suspense, romance and steamy sex scenes, this is the book for you. I wouldn't be surprised if this captivating series ended up on the bestsellers' lists or at an award show—it really is that good.